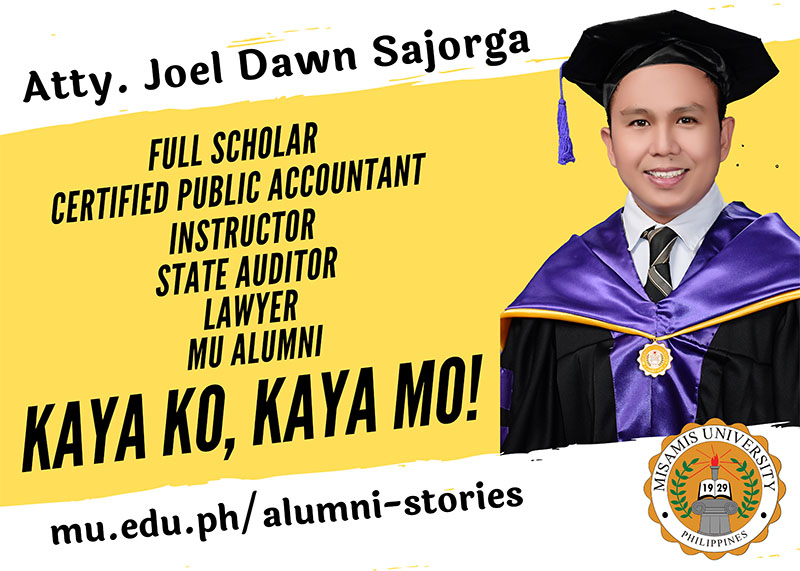 Full Scholar, Full Success: Atty. Joel Dawn Sajorga's Unconventional Path to Success
Born into a modest family, Atty. Joel Dawn T. Sajorga faced a harsh reality: his parents, hardworking and full of dreams, simply couldn't afford to send him to college. But never in his wildest dreams could he have known that he would accomplish what he had today. Armed only with a sharp mind, perseverance, and determination, Atty. Sajorga defied all odds and carved a path to success.
His mother, a woman with a heart of gold, would sell corn on the side to help support Atty. Sajorga and his siblings. His father, a hardworking tricycle driver, would navigate the streets, ferrying passengers to support their small family.
After graduating from high school, Atty. Sajorga's parents expressed that they could no longer afford to send him to college. So he took the MU Scholarship Examination and enrolled at Misamis University under a full scholarship, becoming a beacon of hope for his family and the community.
At MU, Atty. Sajorga's talents shone brightly. His academic brilliance and natural leadership abilities propelled him to the top of his class. He was the President of the Junior Philippine Institute of Accountants for two consecutive school years, and also left a legacy as the President of the MU Chorale. Additionally, our guest speaker served as a member of the Board of Directors for the College of Business and Management
With determination and resilience as his guiding lights, he graduated Magna Cum Laude with a Bachelor's degree in Accountancy in 2011, leaving an indelible mark on the university and the hearts of those who believed in him. A year after graduation, he successfully passed the CPA Board Examinations.
Atty. Sajorga became an instructor at the College of Business and Management from 2012 to 2014, where he guided and inspired countless students, imparting both academic knowledge and valuable life lessons. Currently, he serves as a State Auditor II in the Local Government Sector for the Commission on Audit Region 10.
But his thirst for knowledge and personal growth knew no bounds. While working a full- time job, Atty. Sajorga pursued a Masters in Business Administration, further honing his skills and expanding his horizons. The relentless pursuit of excellence led him to enroll in the Juris Doctor program at Misamis University. Atty. Sajorga's most recent feat was passing the 2022 Bar Examinations.
Today, Atty. Joel Dawn Sajorga is a living testament to the power of education. His story reminds us that circumstances need not define our destinies. From a humble student on a scholarship, he has risen to become a respected State Auditor, and a lawyer. He is a reminder that no obstacle is insurmountable and that with passion, determination, and unwavering support, dreams can transform into reality. His story inspires us all to reach for the stars, no matter where we start.
#joeldawnsajorga #scholar #cpa #alumni #lawyer #successstories #alumni-stories
Announcement
Videos