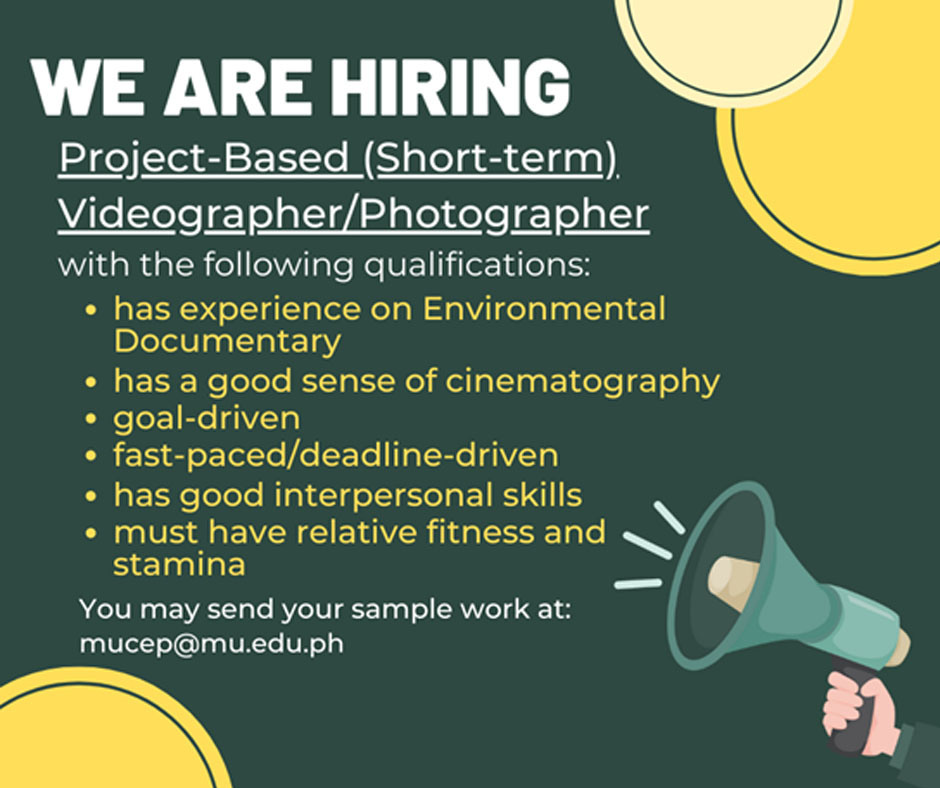 Urgent Hiring

June 5, 2023 9:00 A.M.
The Misamis University Community Extension Program Office (MUCEP) is looking for a Videographer/Photographer for a project-based (short-term) commissioned work. Kindly send your resume and portfolio at mucep@mu.edu.ph or you may visit MUCEP Office, located at the 2nd fl., Library Building, Misamis University, Ozamiz City.
Job Description:
Shoots quality photos and videos of the tourism facilities and ecological features in the pre-identified tourism sites around Mt. Malindang Range Natural Park in the provinces of Misamis Occidental, Zamboanga del Norte, and Zamboanga del Sur;
Produce Three (3) 3-min Science- integrated marketing and advertisement videos;
Produce one (1) 5- min video showcasing the 3 pre-identified tourism sites of the 3 provinces;
Produce One (1) MU Community Extension Program Documentary Video.
Qualifications:
has experience on Environmental Documentary
has a good sense of cinematography
goal-driven
fast-paced/deadline-driven
has good interpersonal skills
must have relative fitness and stamina

send your sample work at mucep@mu.edu.ph
---
News