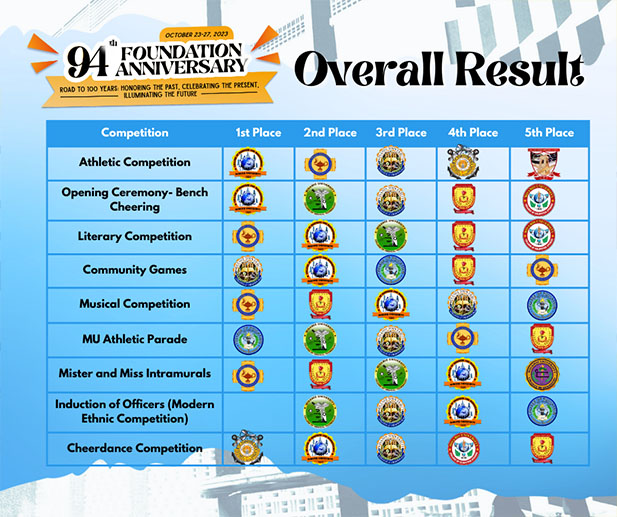 Triumphant Celebrations: Recognizing the Victors of Misamis University's 94th Foundation Anniversary Festivities

The week-long celebration of Misamis University's 94th Foundation Anniversary was successfully held last October 19-27, 2023 with the theme, "Road to 100 Years: Honoring the Past, Celebrating the Present, Illuminating the Future".
The university brimmed with excitement and competitive fervor as the community engaged in and savored the diverse activities arranged. The festivities for this year's foundation anniversary began on October 19 with the Basic Education Department's captivating opening program which was then followed four days later by the university-wide Opening Program with a lively city-wide parade featuring students, faculty, and staff of Misamis University.
This celebration consisted of different activities ranging from various sports events, literary competitions, musical competitions, a cheerdance competition, Mister and Miss Intramurals, community games, and special events.
Proving their status as the Home of the Champions, the College of Business and Management successfully defended their title and was declared the "Overall Champion" for this year's foundation anniversary— claiming a back-to-back championship of the college. CBM also ranked first in the Athletic Competition and the bench cheering competition.
Continue Reading
---
News