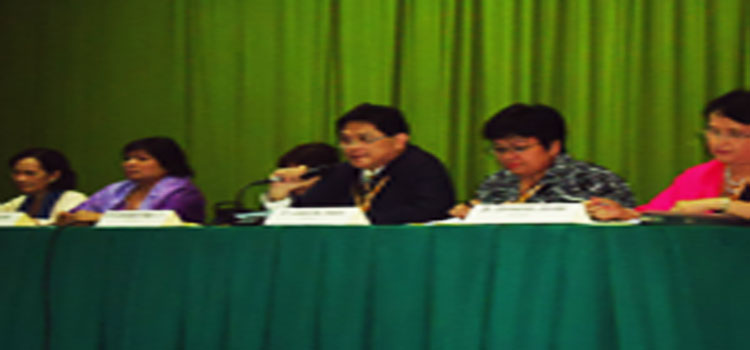 PACUCOA VISITED LABAED PROGRAMS FOR LEVEL III ACCREDITATION
The Liberal Arts, Business Administration and Education's [LABAED] Secondary Education and Elementary Education Programs were visited by the PACUCOA Accrediting Team for its level 111 Accreditation Status, last October 12,13,14, 2011. The survey was based from the following criteria: a reasonably high standard of instruction; a strong faculty and staff development program; a highly visible community outreach program; and an extensive and functional library and other learning resource facilities. Dr. Conrado Iñigo chaired the visit and joining him were, Dr. Paz Lucido, Dr. Esmenia Javier, Dr. Loida Sta. Maria, Dr. Teresita de Guzman and Ms. Chorieta Valerio as members.
According to Dr. Mildred M. Garcia, the Acting Vice President for Academic Affairs and Chairman of the Executive Self-Survey Committee, the voluntary submission of the four (4) programs to undergo Level 111 accreditation strongly underlines the commitment of the administration, faculty and staff to provide quality education with unceasing efforts to maintain them at high level.
On the marketing side, Mr. Joey A. Cabrera, the Director for Student Affairs and Services added that accreditation helps parents to decide which school and program they may send their children to for quality education. It will also challenge all the other colleges/programs not yet accredited to push hard to attain the same standards of excellence. In addition, level 111 accredited programs bring prestige to the university while enjoying the following benefits:
full administrative deregulation
financial deregulation in terms of setting of tuition and other fees and charges;
authority to revise the curriculum without CHED approval provided that CHED and PRC minimum requirements and guidelines are complied with; and;
authority to graduate students without prior approval of CHED for special order;
priority in the awards of grants/subsidies or funding assistance from CHED.
authority to offer new courses allied to existing level III courses without need for prior approval; and
privilege to offer new graduate programs, open learning/distance education; and privilege to offer extension classes and to participate in transnational education.
On the other hand, the Nursing and Civil Engineering Programs, which are currently on level 11 Reaccreditation Status and Criminology, on level 1 status, all enjoy the above mentioned privileges, except for (f) and (g). At present, the Civil Engineering Program has been given the "go signal" to fast track for level 111 Reaccreditation.
The deans of the three colleges, Dr. Joel T. Aclao, College of Education, Mrs. Susan de la Fuente, College of Business and Management and Atty. Anthony L. Awa, College of Arts and Sciences have expressed their profound gratitude to the University President, Dr. Karen Belina F. de Leon for her encouragement and continued support given to the colleges.
Announcement
Photo Gallery
Videos
---