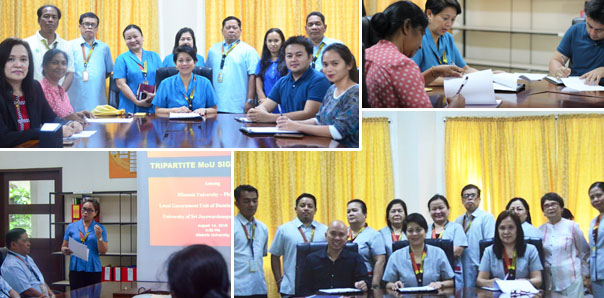 Misamis University Signs MOU with Foreign Universities and LGU
Misamis University enters into a tripartite Memorandum of Understanding with the University of Sri Jayewardenepura (USJP) of Sri Lanka, and the Local Government of Dumingag on August 14, 2018. The three parties have agreed to share knowledge and expertise in ethnobotanical studies and to conduct joint researches. The institutions have also agreed to help promote bioentrepreneurship through workshops and trainings and to create IEC (Information, Education, and Communication) materials such as field guides and laboratory/field procedures. Among the researches pre-identified is on the indigenous flora in Dumingag, Zamboanga del Sur.
The following week, MU goes into another partnership with the Institute for Disaster Management and Reconstruction, Sichuan University (IDMR-SCU) of Sichuan, China. An agreement was made to collaborate in research, faculty and staff exchange, student immersion, joint research, and extension works and to conduct conferences and other academic symposia.
These partnerships aim to enrich the MU students' knowledge and experience through more collaborative research activities and exchange programs.
#Climate Change #iconbacc #Conference #International #Foreign #Asian #Global #Biodiversity #Environment #Nature #Research #Reseach paper #academia #academic #Studies #Global Warming #MU #Misamis University #Autonomous #CHED #MARINA #University #Philippines #Misamis Occidental #Northern Mindanao #College #Mindanao #Ozamiz #Region10 #RegionX #Accredited #PACUCOA #DepEd #SeniorHigh #partner
Announcement
Photo Gallery
Videos
---