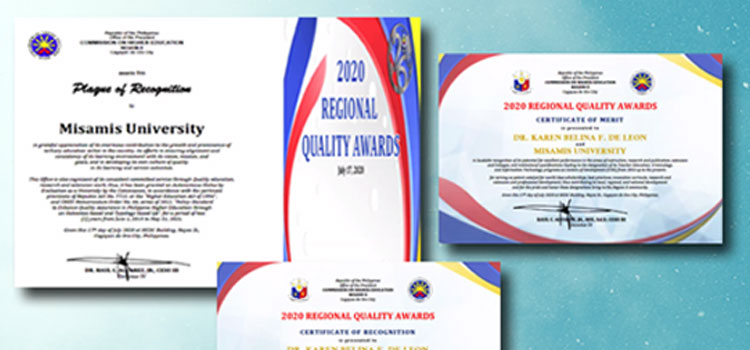 Misamis University Receives Regional Quality Awards
The Commission on Higher Education Region X (CHEDRO X) awards Misamis University with plaques and certificates of recognition during the Regional Quality Awards held last July 17, 2020 during CHED's 26 th Anniversary Celebration
Misamis University received the Plaque of Recognition in acknowledgement of MU's enormous contribution to the growth and prominence of tertiary education in the Philippines. CHEDRO X also recognized the university's consistent committed service through Quality Education, research and extension work which led to the granting of its Autonomous Status.
The university also received the Certificate of Recognition for its support in the implementation of Republic Act No. 9481 "Volunteerism Act of 2007". MU was commended for its complete submission of its Student Affairs Services (SAS) Reports and conducting "fitness to purpose" and wide-ranging activities reflective of its social responsibility and commitment to public good and welfare.
MU was also awarded the Certificate of Merit, which is given to universities and colleges with excellent performance in the areas of instruction, research and publication, extension linkages, and institutional qualifications. This certificate was in recognition of its designation as Centers of Development in Teacher Education, Criminology and Information Technology.
In her response during the awarding ceremony, Dr. Karen acknowledged the hard work and dedication of the entire MU Community. She thanked CHEDRO X and Director Raul C. Alvarez, Jr. for the recognition and gave her assurance of MU's commitment to continue to fuel the burning desire of each Filipino student to learn.
Announcement
Photo Gallery
Videos
---