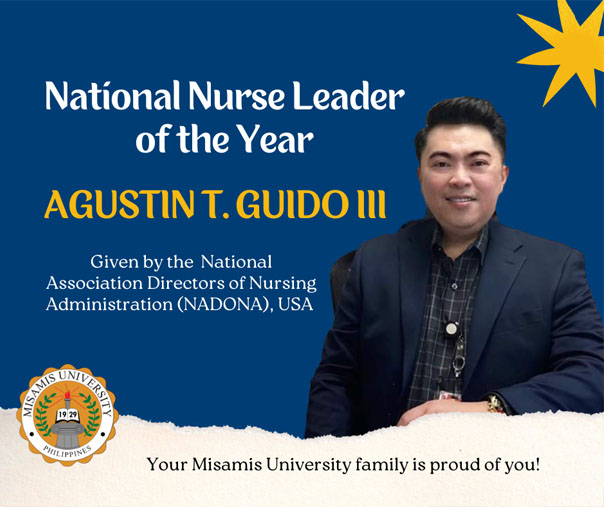 MU BSN Alumnus Receives National Nurse Leader of the Year Award in the USA
Misamis University congratulates its alumnus Agustin T. Guido III, for receiving the National Nurse Leader of the Year Award conferred on May 17, 2022 by the National Association Directors of Nursing Administration (NADONA) in the United States of America.
Guido has been selected for the award among nursing directors in the USA for his work as an exceptional healthcare professional. According to his colleagues, he has shown extraordinary dedication to excellence, integrity, skills and mentorship which led him to receive the award.
Guido has consistently shown excellence in his career. A year ago, Guido had also been cited by the NJSNA Nurses Weekly website (https://njsna.org/in-the-spotlight-agustin-guido-iii/) for his excellent management of the COVID-19 pandemic.
Guido graduated with a Bachelor of Science in Nursing degree from Misamis University in 1995. He took the Nursing Licensure Examination later that year and got 12th place.
#MisamisUniversity #educatingforthefuture #RoadTo100
Announcement
Photo Gallery
Videos
---