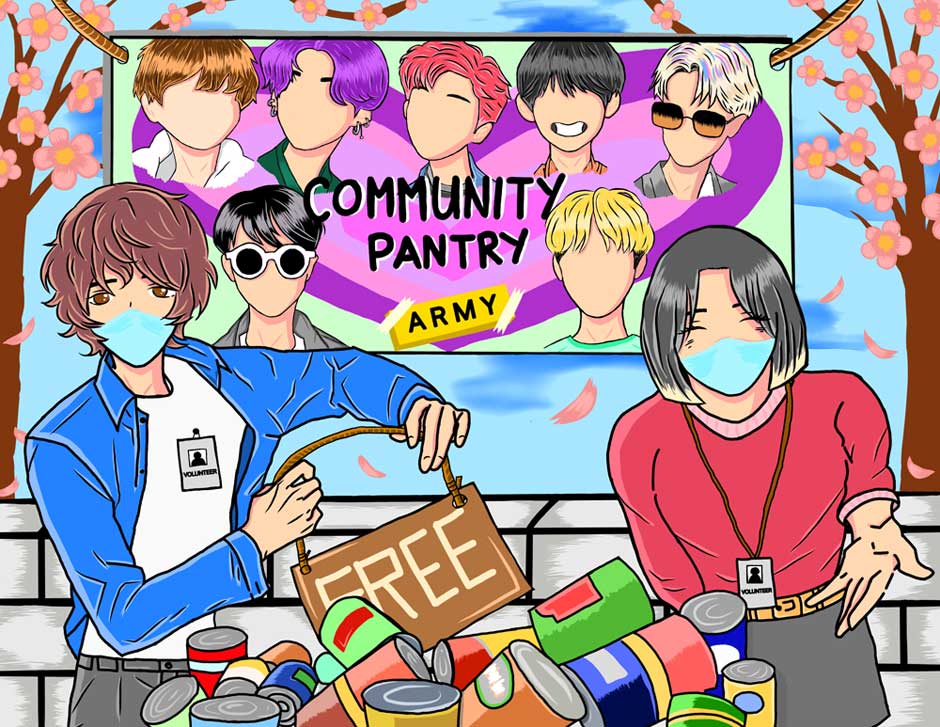 Congratulations Cris James C. Camaylongan for winning K-reate for a Cause, Smart Telecommunications' Sustainability Design Contest!
Camaylongan is a Misamis University 1st Year Political Science Student and is a member of the Misamis University Political Science Society (MUPSS). His winning design will be printed on 50,000php worth of sustainable merchandise by Smart. The MUPSS can sell these merchandise to raise funds for their chosen beneficiaries. In addition to the merchandise, Camaylongan will also be receiving a Samsung Galaxy S21, a Smart Prepaid 5G Sim Card, 1,000 pesos worth of prepaid load, and a Smart Passion + Purpose Mystery Box.
To shed more light on his design, Camaylongan writes;
"The pandemic greatly affects our normal life. We are all facing much more stress, fear, and hunger. However, this situation teaches us to be creative in helping each other, just like one of the trends here in the Philippines, the "Community Pantry." The community pantry encourages our Filipino youth, organizations, and similar groups to gather funds and donations, which will then be used to purchase goods to be distributed to the needy in the community.
Many K-pop fans like Army, the fandom of the K-pop group BTS, are on board with the community pantry trend. Fans are also motivated to help because they are inspired by their K-pop idols, who also show how helping each other helps achieve success. K-pop shows us to not only appreciate the talent of the performers but to also idolize them for being brave and helpful.
The Hallyu elements in my design are the BTS's new look from their latest song, "Butter." Behind the BTS head figures, the hearts in different purple shades, which Kim Taehyung of BTS popularized, which he says means "Love." He sometimes says "I Purple You" to his fans to show how he appreciates them.
Below the words "Community Pantry" is the word "Army," which is the official name of the BTS fandom. The Filipino Youth volunteer figures, male (left) and girl (right), wear blue and red taking inspiration from the colors of our Philippine Flag. Even if they are Filipino youths, their clothing and hairstyles are influenced by the Korean wave. The "Free" signage the boy is holding shows that the canned goods and other items in the pantry are freely given to those in need. The "Beot-kkot" or cherry blossom trees in the background represent how the Filipino youth is in touch with South Korea or Hallyu culture.
Lastly, the concrete bricks behind the Filipino youth volunteers represent the strong foundation of the Filipino youth and Korean Idol groups, especially BTS. As the BTS members and Army say, "no challenges can take us down; we will be stronger if we help each other."
Announcement
Photo Gallery
Videos
---