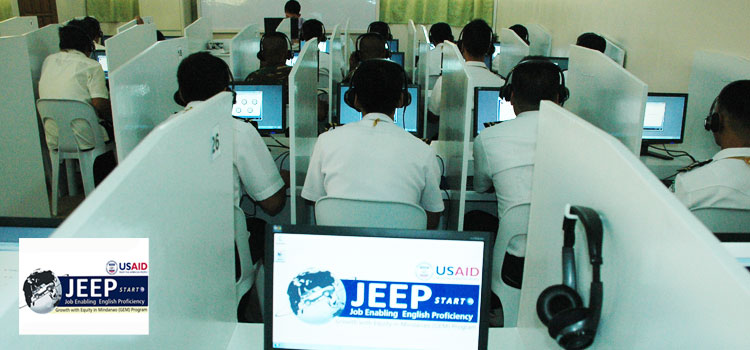 Beep Beep, The JEEP Has Arrived
The English Department of the College of Arts & Sciences has a new laboratory for its Job-Enabling Proficiency Program (JEEP) which started in October 2010. This state-of-the-art air-conditioned laboratory is equipped with 40 new hi-grade computer units, headsets, a server and run by licensed software. This project is obtained through a tie-up with the United States Agency for International Development (USAID) through its Growth with Equity in Mindanao (GEM) Program.
According to Acting Vice President for Academic Affairs, Dr. Mildred M. Garcia, the offering of JEEP courses aims at improving the employability of graduates by expanding and enhancing the students' English language capabilities, thereby, producing graduates equipped with adequate English language skills needed for productive employment in careers requiring reasonable proficiency in language.
English Chair, Mrs. Maureen A. Logronio explained that JEEP comprises of two courses: the first course, known as JEEP Start, includes a 100-hour computer-based instruction supported by extension activities. This JEEP course is designed to develop advanced General English Language Skills.
After, the completion of first course, students will enroll in the second JEEP course known as JEEP Accelerate. JEEP Accelerate is another 100-hour mixed-mode instruction—a classroom-based speech lab and an internet-based learning which focuses on English for Specific Purposes (ESP) and English for International Employment. It is intended to equip students with the specific English language skills needed for the jobs in such sectors as Business Process Outsourcing (BPO), tourism, nursing and allied health services, maritime services and others. It will prepare students to take international English tests as gateway to overseas employment in these sectors.
Announcement
Photo Gallery
Videos
---