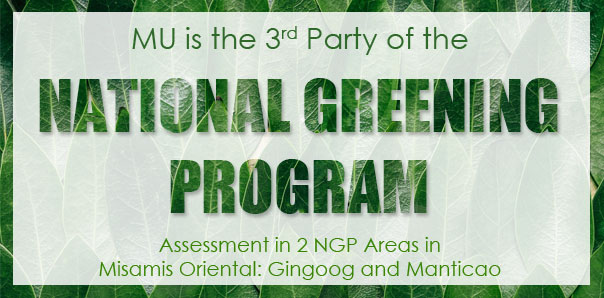 Misamis University is the 3rd Party of the National Greening Program (NGP) Assessment in 2 NGP Areas in Misamis Oriental: Gingoog and Manticao
In compliance with FMB Technical Bulletin No. 23 and pursuant to DENR Memorandum Circular 2013-06, Misamis University Community Extension Program (MUCEP) together with the College of Agriculture and Forestry (MUCAF) and College of Engineering and Technology (MUCET), has recently evaluated the National Greening Program (NGP) sites in Barangay Sangalan in Municipality of Gingoog and Barangay Digkilaan, Municipality of Manticao, Misamis Oriental. NGP is a flagship program of the Department of Environment and Natural Resources (DENR) which is mainly focused on reforestation of millions of hectares of denuded public lands in the Philippines. Peoples' organizations and communities are the main partners of this program.
The purpose of the assessment is to evaluate the survival rate of the planted trees in the NGP areas. Parameters measured include height, diameter and conditions of the area. In Barangay Sangalan, Gingoog, Misamis Oriental, the NGP 2013 establishment was awarded to the Kapunungan sa Nagkahi-usang Kababayen-an sa Sangalan (KNKS) with a total area of 150.78 hectares with a seedling requirement of 500 per hectare at 4m x 5m planting distance. The commodity required was Moluccan sau (Paraserianthes falcataria) locally known as Falcata. There were fifteen sampling sites generated using the grid-sample point method of the ARC GIS software.

Photo from left

: Mr. Sunny Paldo, one of the 2013 NGP beneficiaries posed inside the sampling site.

Middle photo:

The incendiary in the sampling site is one of the reasons of low survival rate in Brgy. Sangalan.

Right photo:

Healthy and well-formed standing trees that were inventoried in Brgy. Sangalan, Gingoog, Misamis Oriental.
In Manticao, Misamis Oriental, the 2014 NGP was awarded to Barangay Digkilaan Upland Farmer's Association (BDUFA) with 302.4 hectares at 1,000 seedlings per hectare with 2m x 5m planting distance.

Photo from left

: Newly grown seedling stocks that are still to be planted in the BDUFA NGP site.

Middle photo:

A newly planted seedling in the BDUFA site.

Right photo:

The gall rusts have infested most of the grown Falcata trees.
This undertaking was made possible through a Memorandum of Agreement signed between DENR Region 10 and Misamis University. Also, the support and participation of the PENRO Misamis Oriental and CENRO focal persons of Municipality of Manticao and Gingoog and BDUFA President has made the project successful.
Announcement
Photo Gallery
Videos
---