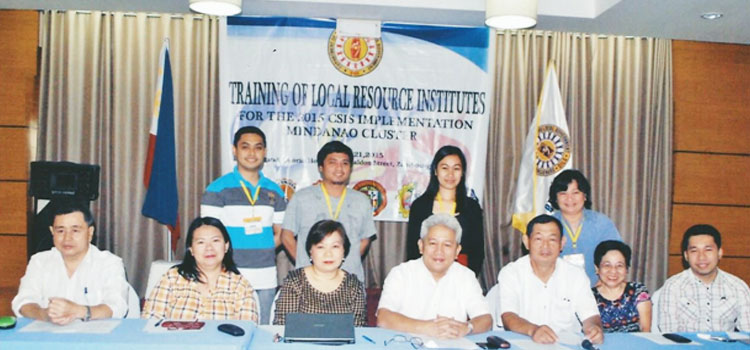 Training of Local Resource Institutes for the 2015 Citizen Satisfaction Index System (CSIS) Fieldwork Implementation
Last April 20-21, 2015, the Department of Interior and Local Government (DILG) held a two-day Training of Local Resource Institutes for the 2015 CSIS Fieldwork Implementation in Grand Astoria Hotel, Zamboanga City. This was conducted to train the LRIs on data gathering, data analysis and report writing. This was attended by the different LRIs from Region IX and X namely: Misamis University, Mindanao State University – Iligan Institute of Technology (MSU-IIT), University of Mindanao – Tagum College, University of Southeastern Philippines, and Ateneo de Zamboanga.
Misamis University has been a partner of the DILG – Bureau of Local Government Supervision (BLGS) as a Local Resource Institute (LRI) since Misamis University became a member of the Local Governance Training and Research Institute (LOGOTRI) – Philippine Network (PhilNet) and conducted the Citizen Satisfaction Index System (CSIS) in Oroquieta City and Ozamiz City in 2013. Now on its third year of implementation, the said program will cover 56 cities in the country. Again, Misamis University was recommended by DILG Region X as the Local Resource Institute for the CSIS implementation, this time in Tangub City, Misamis Occidental.
Citizen Satisfaction Index System (CSIS) developed by the DILG-BLGS is a tool used to draw applicable information for gauging citizen satisfaction in the various local government services delivered to help improve the citizen's socio-economic condition and advance their appreciation of local political affairs as well as effectively transform them into becoming productive development partners. It is a citizen perception-based performance assessment that measures the respondent's awareness, availment, and satisfaction of the different services offered by the local government. These include services on health, support to education, social welfare, governance and response, public works and infrastructure, environmental management, agricultural support and tourism promotions.
CSIS is an effective tool used to capture the voice of the citizens. Results of the study which will be turned over to the LGU, will be used for LGU's planning towards the improvement of their service delivery, budget prioritization, and policy formulation. This will also serve as a reference for National Government Agencies (NGAs) for program/project intervention; and for the Civic Society Organizations (CSOs) in engaging with the government, specifically the LGUs.
The Misamis University CSIS Implementation Team was led by the Project Coordinator, Ms. Grace V. Villanueva; with Mr. Jinx Lloyd C. Gelaga and Ms. Goldah Grace O. Dela Pena as Field Supervisors; and Engr. Hidear Talirongan as the Data Processor.
Announcement
Photo Gallery
Videos
---