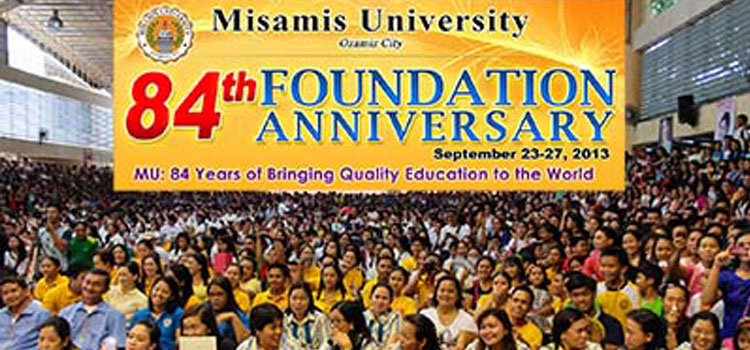 The celebration of the 84th Foundation Anniversary
'MU: 84 Years of Providing Quality Education to the World!' shouts Misamis University on September 23-28 of this year as she pays tribute to the founders of the institution and all those who gave honor to the alma mater in the different parts of the world.
Making the celebration more festive were the episodes of highlighted events that mirrored the university's endeavor to extend beyond traditional sports. Emphasis was put on keeping a culture of camaraderie, sportsmanship and excellence, fun throughout the various literary, musical and athletic competitions.
The week-long celebration started as the MUans paraded the city streets followed by a ceremony with the raising of college flags, oath-taking for the athletes and lighting of torch to signify the opening of the festivity. Celebrating with the MUans were the respected members of the Feliciano family.
Indeed, the audience was taken aback with the breath-taking exhibitions of the Cheer Dance competitors. The College of Computer Studies bagged the 1st place with their superb stunts. Meanwhile, the College of Medical Technology reigned the Mr. & Ms. Intrams 2013. Ms. Iles Rean C. Alvarez and Mr. Guillien E. Mangubat stood out amongst the contending colleges who flooded the stage with beauty and appeals.
More to the events was the Faculty and Staff Night which took MU to the world. The participants' dazzling symbolic attires signify MU's role in producing quality graduates to the demand of the international employment market. MU recognizes sending graduates to Asia, Middle East, Europe and USA as represented by the differing teams of the faculty and staff.
Responding to the call of strengthening partnership with the community, the MU High School Department hosted the Inter High School Cultural Competition with 9 secondary schools in Ozamiz City. This was seconded by the Educational Tour 2013 where MU invited secondary schools from Lanao, Tudela, Clarin and Ozamiz City. Toured around the campus, the students enjoyed the showcase of the laboratory facilities in the different colleges of the university. The educational tour highlighted the presentation of the GMA Kapuso Stars Isabel Daza, Benjamen Alvez and JC Tiuseco, who, themselves, are academic achievers and degree holders. Thousands were star-struck with the wit and charm of the stars.
MU also hosted a Job Fair in partnership with the Department of Labor and Employment participated by 10 local and international companies. Certainly, MU is committed to bridging quality education to employment.
The anniversary would not have been complete without the athletic competitions. The campus was overwhelmed with loud cheers and friendly banters as each team went all-out to grab the winning titles. Defending their title, the College of Business and Management slammed as over-all Champion for three consecutive years. 1st Runner Up was the College of Criminology, 2nd was the College of Engineering and Technology, and 3rd was the College of Maritime Education.
The 84th Foundation Anniversary had been a week-long celebration to a lifetime experience. Winning can happen to everyone when there is camaraderie and teamwork; and when together, each takes a local act that leads to a global goal. Once again MU shouts, "MU to the World!"
Announcement
Photo Gallery
Videos
---