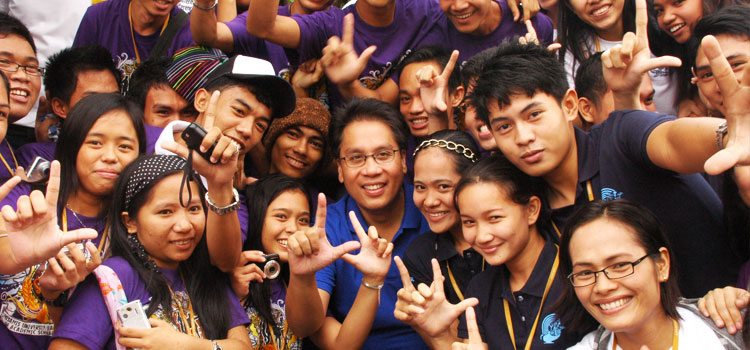 The Heat is on for the 23rd MURSO Festival
One of the most highly anticipated and well-organized activities of the year is the Misamis University Recognized Student Organization [MURSO] Festival. This event will be held on February 18-19, 2011 with the theme: MURSO: Creating a Community of Peace through Appreciation & Pride of our History and Cultural Heritage.
According to Director for Student Affairs & Services Mr. Joey A. Cabrera, the Festival aims to: 1. complement and enrich the academic program; 2. increase participation and retention of students; 3. provide student leaders leadership development opportunities that enhance their overall experience; and 4. provide venues for further development of the students a. unique talents, creative and technical skills and interests; b. a sense of service through activities which promote appreciation & pride of our history and cultural heritage and c. leadership qualities.
When asked about the rationale of this year s theme, he explained that with the advancement of technology it created a culture where students can't see themselves without computers, cell phones, ipods/pads, video games, voice mail or too dependent with the Social Network like Facebook, Twitter...etc... All these sometimes, make them forget to appreciate who they really are, as a person, as a unique individual and community who has a rich tradition and history.
The activities lined-up are specially programmed to achieve this purpose. He added that forty two (42) recognized student organizations will be participating and competing in the2-day event. The Program will be opened at 8:00 in the morning on February 18, 2011 (Friday) with the following contests: Extemporaneous Speech, T-Shirt Design, On the Spot Painting and Photo Exhibit. In the afternoon, Traditional Games like Karera Ng Sako, Patintero, Planting Rice, Dampa, Luksong Tinik and Maria Went to Town. The first day will end with a Thanksgiving mass at 5:00.
The second day will be highlighted with a cultural presentation, barrio fiesta, and an echo seminar on the Viaje del Galeon 2010 experience. The grand finale of the festival is the MURSOYAWAN where everybody will come together and rock the night on.
REWIND:
Last year s Awardees (SY 2009-2010):
*Philippine Institute of Civil Engineers,*Coders of Dynamic Programming,*Hoteliers of Tomorrow,*Institute of Integrated Electrical Engineers,*Junior Philippine Institute of Accountants,*Junior Business Executives,*Misamis University Office Administration Students,*PC Troubleshooters,*Society of Misamis University Dental Clinician,*Young Association of Social Workers, Inc.,*Youth with a Passion for Christ
Announcement
Photo Gallery
Videos
---