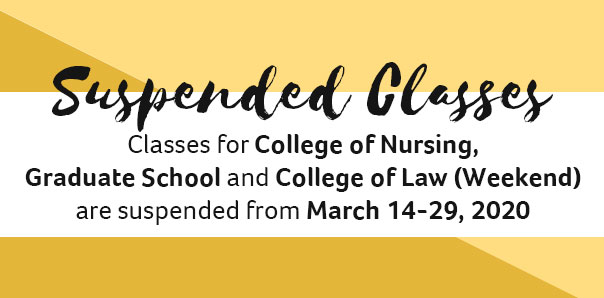 SUSPENSION OF CLASSES
Classes for the College of Nursing, Graduate School and College of Law (Weekend) are suspended from March 14 to March 29, 2020.
Students are advised to submit any remaining requirements online through their respective professors.
With regards to the other colleges, Misamis University will adhere to the guidelines as mandated by the Office of the City Mayor.
---
Cancelled Activities
All Misamis University activities for the months of March and April are cancelled.
Activities include but are not limited to:
► Junior High School Night
► Senior High School Night
► Recollection
► Baccalaureate Mass
► Recognition Rites
► High School Graduation Ceremony
► Moving Up Ceremony
► JOBSPEC
► College Graduation Ball
► College Graduation
Announcement
Photo Gallery
Videos
---