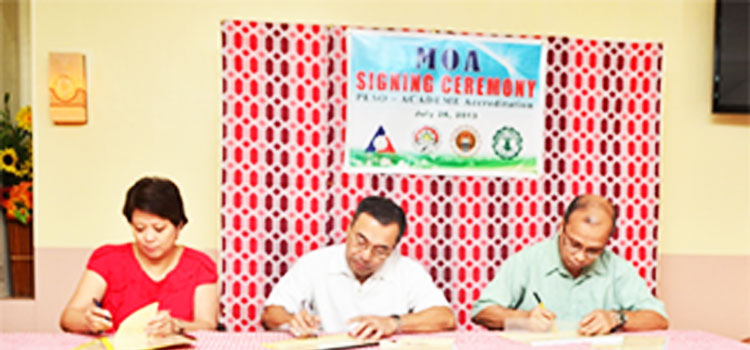 Misamis University Signs MOA with DOLE for School-based PESO
Misamis University signed a Memorandum of Agreement (MOA) with the Department of Labor and Employment (DOLE) on the establishment of school-based Public Employment and Service Office (PESO) on July 26, 2013 at Bethany Garden & Restaurant, Ozamiz City.
The school-based PESO will assist the graduating college students through career coaching and the alumni in finding jobs. The partnership between DOLE and MU is considered as one of the mutually beneficial undertakings between the government and the academe that will address the issues on jobs mismatch and unemployment.
The MOA was signed by DOLE 10 Regional Director Atty. Johnson G. Cañete and Misamis University President Dr. Karen Belina F. De Leon. This was witnessed by DOLE Misamis Occidental PFO Head, Mr. Jose G. Robles, DOLE Ozamiz Satellite Head, Ms. Ebba B. Acosta, and Misamis University PESO Manager, Mr. Jeric M. Difuntorum.
This partnership with DOLE signals another step towards enhanced services of Misamis University in terms of labor market information, job placement and referrals and career guidance. This further defines the commitment of MU to her constituents in the delivery of excellent service; another fulfillment of the promise of 'Educating for the Future'.
Announcement
Photo Gallery
Videos
---