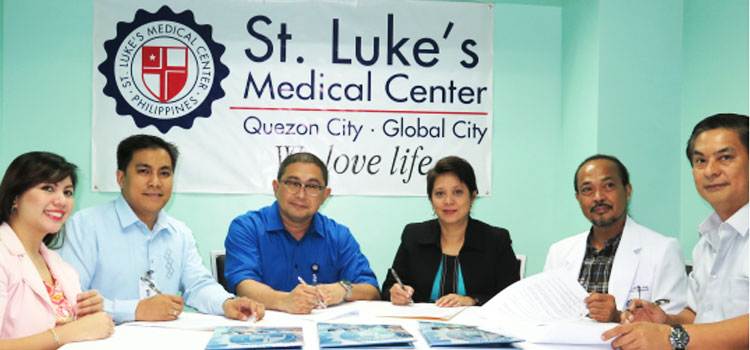 MUMC Partners with the Country's Leading Healthcare Provider

The Misamis University Medical Center (MUMC) entered into a partnership with no less than one of the country's leading health care provider, St. Luke's Medical Center. The agreement was sealed last October 7, 2014 at the corporate office of St. Luke's Medical Center. Signing in behalf of MUMC was the Medical Director, Dr. Karen Belina F. De Leon while witnessing the momentous event, was Misamis University's Board of Director, Dr. Ricardo F. De Castro together with MUMC's Hospital Administrator, Dr. Orlando D. De Leon.
According to Dr. De Leon, the purpose of the said partnership is expertise development. MUMC will now have a chance to collaborate with the experts from St. Luke's Medical Center. In addition, MUMC will have the opportunity to invite sub-specialists from St. Luke's Medical Center to conduct periodic clinics here in Ozamiz. MUMC and St. Luke's mutual commitments include 1. Service 2. Education and Training 3. Research.
With such a partnership, MUMC can now provide the people of Misamis Occidental and neighboring provinces the same quality of health care services that St. Luke's is known for. There is no longer a need for our patients to travel to Manila or to Cebu just to consult a sub-specialist for more difficult cases and with the MUMC-ST. LUKE'S partnership in place, our patients would therefore save on their resources.
Because of the need for more specialized services, MUMC has embarked on this very significant engagement with the country's leading healthcare provider. The MUMC – St. Luke's partnership is proof of the latter's continued commitment in providing world class health care in the heart of Misamis Occidental.

---
Top News