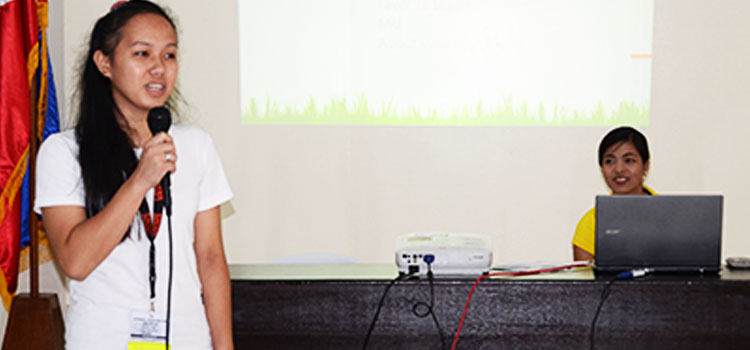 MU granted FREE Public Speaking Workshop to Clarin National High School
The Misamis University has granted a FREE one day workshop to the members of the Rhetoric Society of Clarin National High School, Clarin, Misamis Occidental. Organized by the Office of PR and Marketing in collaboration with the community extension programs of the Graduate School and the College of Arts and Sciences through the AB ELT students, the public speaking workshop was held on December 7, 2013 at the MU Functional Hall from 8:00 am to 4:00 pm.
40 aspiring public speakers of Clarin National High School have participated and enjoyed the activity-based workshop. Facilitating the workshop was Ms. Maria Bella V. Nason, a MAEd-ELT graduate and Marketing Officer of Misamis University. Based on her Masters Thesis, the facilitator propounded the principles of public speaking and demonstrated the variables of oral proficiency. Along the line, the activities discovered and improved the individual strengths and weaknesses of the participants. The event was packed with speaking activities laced with discussions on the imperative issues of oral proficiency and held drills necessary to build and improve the students' speaking styles. Part of the event was also a showcase of the JEEP laboratory as one of the facilities in the university that enhance the students' English proficiency in correlation to landing a job in the future.
Assisted by the AB-ELT students of the College of Arts and Sciences, the workshop displayed the oral skills of the MU students in their assigned speaking tasks. Showcasing grammar, pronunciation, vocabulary, speech flow and organization of thought, the AB-ELT students characterized the institution satisfactorily.
Observed by the selected faculty of Clarin National High School, the activity succeeded in delivering a sample of quality service from Misamis University. As one of the adopted schools through the MU ADS program, Clarin National High School is indeed grateful for being one of the lucky recipients of quality educational services from a higher learning institution.
Headed by Dr. Orlando D. De Leon, the Office of PR and Marketing has been actively reaching out to the adopted schools in a generous demonstration of the university's commitment to quality education.
Announcement
Photo Gallery
Videos
---