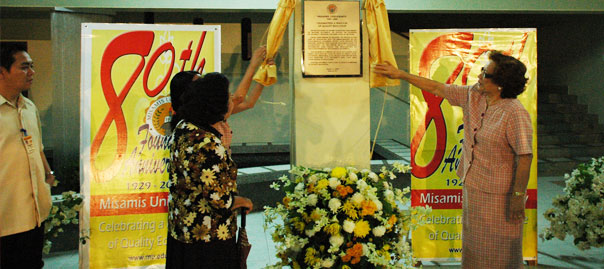 MU Turns 80
Misamis University started the yearlong celebration of her 80th Foundation Anniversary last March 13, 2009 with the theme, "MU at 80: Celebrating a Heritage of Quality Education. " The event started with the unveiling of the location marker at Kolambugan, Lanao del Norte the town where MU had her humble beginnings.
Mrs. Rowena Anne F. Tamula, Director for Income Generating Projects and Dr. Reynaldo C. Feliciano, University Physician, unveiled the location marker. A fluvial parade followed from Kolambugan Port to the Cotta Port which was welcomed by the Faculty, Staff & Students of MU.
The unveiling of the 80th Foundation Marker held at the MU Library Building Lobby followed. Mrs. Sonia S. Feliciano and Dr. Estela C. Feliciano, both members of the Board of Trustees, headed the unveiling of the Foundation marker.
The marker gave tribute and recognition to the pioneering efforts of Dr. Hilarion T. Feliciano and Doña Maria M. Feliciano. They established this learning institution with their vision for quality education. Because of them, we have the Misamis University.
Shine on Misamis University!
Announcement
Photo Gallery
Videos
---