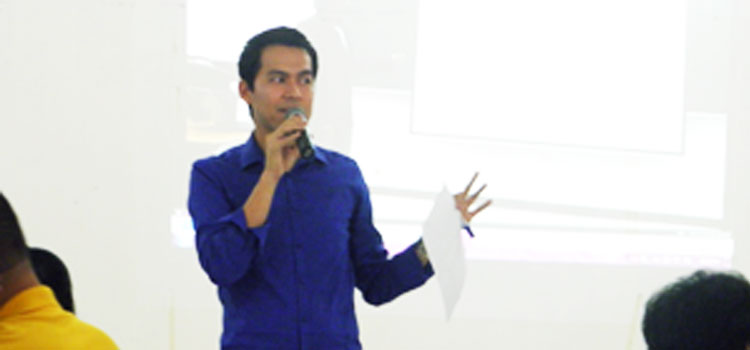 MU Teachers on Rubrics Calibration Training
Some 60 faculty members from the Grade School, High School, College of Education, Arts and Sciences, Nursing, Business and Management and MU Oroquieta City participated in the seminar workshop on "Rubrics Calibration and Exemplars". This was conducted last October 24, 2012 at the MU Function Hall. Dr. Junifer Abatayo, a former CAS faculty and an alumnus of the College of Education was the resource speaker.
According to Dr. Abatayo, assessment of the learning outcomes calls for the use of rubrics for the teachers to measure the students' performance in the different classroom activities. For the exemplars, he used rubrics in rating students' compositions. In the workshop, the activity focused on defining the different criteria and giving description for the levels of quality for the scoring guide. The speaker pointed out that the faculty members may use the samples which are downloadable from the internet. They can be modified or revised later as the teachers' skill in the use of rubrics increases. He added that the rubrics are easy to use and allow the students to have a say on how their work/ activity/ outputs may be graded. Hence, increasing their responsibility and accountability.
The seminar – workshop is one of the in-service trainings programmed by the HR as part of faculty development activities/ trainings to enhance the faculty members' teaching skills.
Dr. Abatayo, now Consultant in Language Testing and Assessment Unit, English Language Center Yanbu Colleges and Institutes, Royal Commission for Jubail and Yanbu in Saudi Arabia, said that one of the things he looks forward to in his homecoming besides being with his family is for him to have fellowship with his former colleagues at MU whom he considers his second family. He added that he is always willing to share whatever he can, after all "I owe it all to MU" he quipped.
Announcement
Photo Gallery
Videos
---