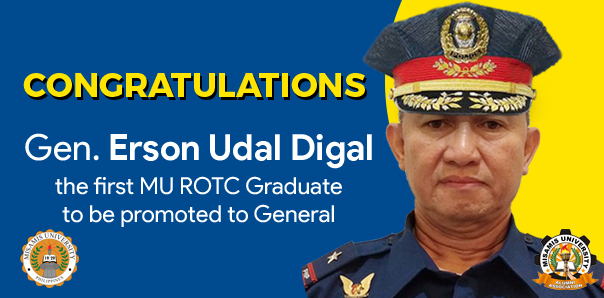 MU ROTC Produces Its First General
Misamis University congratulates Erson Udal Digal, for his promotion to the rank of General. Erson Udal Digal is the first MU ROTC alumnus to be raised to General. Before becoming General, Digal was Quezon City Police Department Deputy District Director for Operations (DDDO). Here, he headed investigations of crimes and led the implementation of police operations.
General Digal's career brought him to different parts of the Philippines. Still, his most notable assignments were in Misamis Oriental to suppress communist rebels, and his work against criminal gangs in Ozamiz City, most notably the "Kuratong Baleleng" Gang. His excellent performance led him to be awarded several Military Merit Medals and Military Commendation Medals for exemplary performance.
Digal, a graduate of BS Civil Engineering, was a member of the Basic Advance Reserve Officer Training Corps during his undergraduate years at Misamis University. He served as Battalion Commander during his First Class Cadetship. After college, he pursued Bachelor of Laws (LLB) at the University of Visayas before coming back to Misamis University to complete a degree in Master of Public Administration. While studying for his master's degree, Digal was also Deputy Chief of Regional Policy Community Relations Division in Cebu City.
Announcement
Photo Gallery
Videos
---