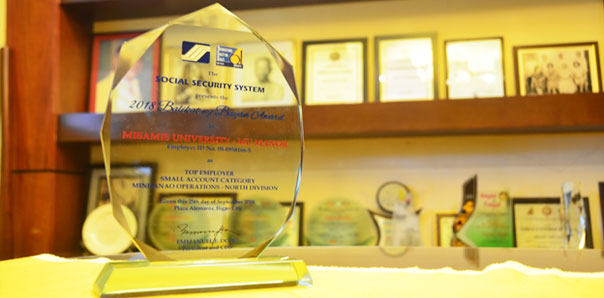 MU Manor Receives Balikat ng Bayan Award from SSS
Misamis University's Hotel and Restaurant, the MU Manor, recently received an award from the Social Security System (SSS). The Balikat ng Bayan Award recognizes top public and private sector partners for their strong commitment in ensuring a reliable social security protection for Filipino workers in the country.
The MU Manor which also serves as a laboratory for its Bachelor of Science in Hotel and Restaurant Management students, was awarded the Top Employer in the small account category, Mindanao operations- North Division.
The award was given on September 25, 2018 at the Plaza Alemania in Iligan City as part of SSS's 61st Anniversary Celebration.
#SSS #Social Security System #Employer #For Hire Restaurant #Hotel #HRM #BS HRM #MU #Misamis University #Ozamiz City #Northern Mindanao #Region X #Misamis Occidental #Best Hotel #Top Hotel #Hotel and Restaurant Management #job #University #college #autonomous #top college #top university #bsba #business administration #mu manor
Announcement
Photo Gallery
Videos
---