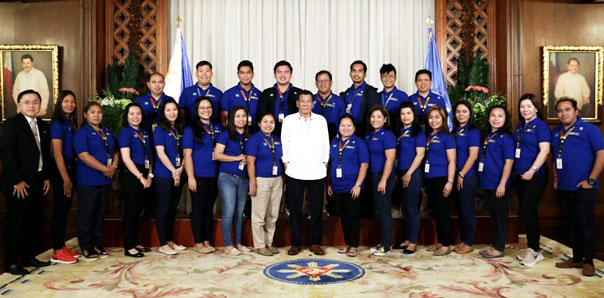 MU Graduate School Students meet the President, Senators, and Executive Secretaries.
Misamis University Graduate School students met President Rodrigo Duterte at Malacañang Palace during their recent Study Tour in Manila last February 23-29, 2020. The graduate students had the luxury of dining at Malacañang before formally meeting the Chief Executive during their tour.
The group, organized by Dr. Virgilio Onganiza, also visited the House of Representatives and the Senate Hall. MU's graduate students formally met with members of Congress, including Senator Bong Go, Senator Grace Poe, and Senator Manny Pacquiao. They also had the chance to meet Executive Secretary of Finance, Carlos Dominguez III, and Executive Secretary of Defense Delfin Lorenzana.
The graduate students said that the experience of the study trip was very memorable. "I was overwhelmed with awe when I met the President of the Philippines. This trip is definitely one to remember." says Roland Alcontin, a second-year Master of Business Administration Student. The group also got to tour the University of the Philippines Diliman Campus, the GSIS Museum, the National Museum of Fine Arts, and the National Museum of Natural History.
Enrollment for graduate school for the first semester of the school year 2020-2021 starts on March 16, 2020.
Click on this link for enrollment details.

Announcement
Photo Gallery
Videos
---