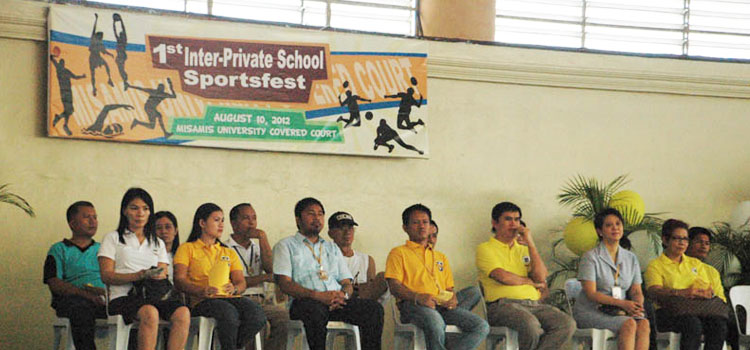 MISAMIS UNIVERSITY: Home to the 1st INTER PRIVATE SCHOOLS SPORTSFEST 2012
Misamis University was very proud to host the FIRST INTER PRIVATE SCHOOLS SPORTSFESTS held last August 10, 2012 at selected venues within the university campus.
Major events were held in Misamis University covered court such as basketball, Volleyball and the Opening Program which showcased the Search for Mr. and Miss Interprivate Sportsfest 2012. The swimming competition was held at the MU Swimming Pool.
The FIRST INTER PRIVATE SCHOOLS SPORTSFEST was initiated by the Ozamiz City Association of Private School Administrators (OCAPSA). The Sportsfest 2012 was participated by EIGHT (8) private schools both in elementary and secondary levels in collaboration with the Department of Education Division of Ozamiz City.
During the said event, Misamis University earned the following places in the different sports categories:
Elementary Level:
Aryan Sofia T. Francisco - Champion Scrabble (Women)
John Herbert Abelana - Champion Swimming (Men)
Leonore Ellen Rose Lumantas - Second Place, Swimming (Women)
Bryle Darren Balatero - Second Place,Chess (Men)
Joseph Maxen Manasan - Second Place, Table Tennis (Men)
Renna Fe J. Mata - Second Place, Table Tennis (Women)
Ryan Christian R. Atis - Second Place, Scrabble (Men)
High School Level:
Volleyball (Men) Champion
Valleyball (Women) Third Place
Basketball Team Second Place
Mira Nina Hapitan Champion Chess (Women)
Mel Christian Estrada Second Place Chess (Men)
Rio Legazpi Second Place Badminton (Men)
Patrick Jowen Manasan Third Place Table Tennis (Men)
Karen Paraiso Third Place Table Tennis (Women)
Third Place Scrabble (Women)
John Joseph T. Lim Second Place Swimming (Men)
Lourisse Marie Cang Fourth Place Swimming (Women)
Announcement
Photo Gallery
Videos
---