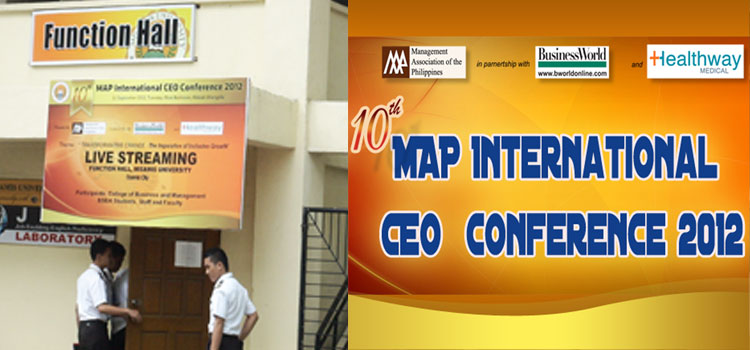 MISAMIS UNIVERSITY participates 10th MAP International CEO Conference 2012
With the theme, 'TRANFORMATIVE CHANGE: The Imperative of Inclusive Growth', the 10th Management Association of the Philippines International CEO Conference 2012 was successfully participated through LIVE STREAMING by Misamis University College of Business and Management.
Hooked from Shangrila, Manila, at around 8:30 in the morning of September 11, more than a hundred particpants, compose of the college faculty, staff and students assembled at MU Function Hall in time for the opening keynote address with the topic: the Role of Business in Enabling Transformative Change and Inclusive Growth" by Dr. Jesus P. Estanislao, Chairperson of the Institute for Corporate Directors (ICD).
The topics during the one-day conference include:
• Bulding Bridges for Transformation Through Education by Ms. Angie Vaux, Senior Director for SAP Education, South East Asia - Singapore
• Capitalizing on Imperative Change: A Top Priority of Business Leaders by Mr. Charles Njendu, Senior Engagement Manager, Global Business Services, IBM ASEAS - Singapore
• TOURISM: Building the Momentum for Inclusive Growth by Ms. Anita Mendiratta, Managing Director, Cachet Consulting - South Africa
• Branding Value and Valuing the Brand by Mr. Charlie Scott, Founder and Creative Director, TANGIBLE PTE LTD - Singapore
• Transformative Change: The Courage to Lead, the Courage to be Led by Mr. Boy Abunda, Talent Manager BCKROOM, Inc. Philippines
The 2012 Conference capped the event with a closing keynote address with the topic, 'Innovation as a Catalyst for Transformation and Inclusive Growth'.
The MU BSBA students expressed satisfaction in the event knowing too well that the exposure have given them insights on the global and holistic responsibilities of today's business organizations. On top of this, the students of Misamis University also felt the increasingly challenging but highly interesting career in business management.
Misamis University indeed is educating for the future!
Announcement
Photo Gallery
Videos
---