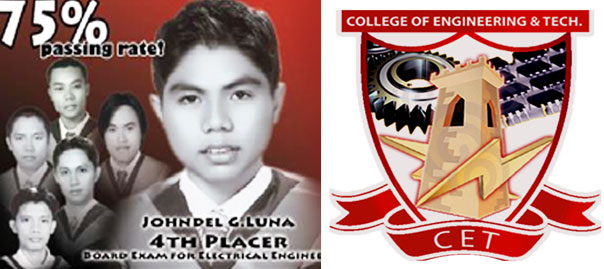 Luna Tops EE Board Exam
Engr. Jhondel G. Luna, son of Mr. and Mrs. Arnold Luna of Manabay, Ozamiz City garnered 4th place with a rating of 84.55% in the recently concluded May 2009 Board Examination for Electrical Engineers given by the Professional Regulation Commission.
Aside from Engr. Luna, five (5) other EE graduates passed the examination:
Engr. Mark Joy G. Davis
Engr. Ricky R. Deloria
Engr. Lorenzo C. Legaspino Jr.
Engr. Jay Doone B. Pepito
Engr. Philip Agustin E. Sarte
This year's national passing percentage is 35.20%. MU got a very high percentage of 75%.
This is another noteworthy achievement of the university. Another board topnotcher that brought pride and honor to the College of Engineering & Technology and Misamis University.
Congratulations!
Announcement
Photo Gallery
Videos
---