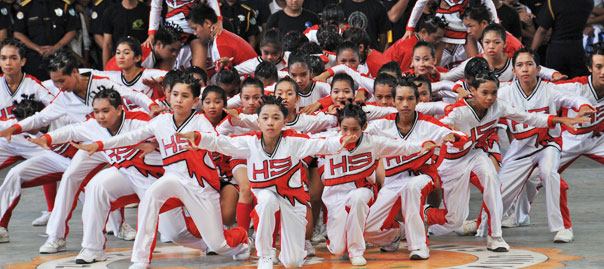 High School Department Still Reigns
"Victory!" Shouted the High School students.The biggest event of Misamis University Intramurals 2009 was held last January 21, 2009 at the MU covered court. The High School department rejoiced as they grappled the title, being the champion once again in the cheer dance competition.
They were able to stun the spectators with their outstanding presentation, their breath-taking red and white uniforms and their flexibility in performing acrobatic stunts.
Among the other colleges in the university, the High School department proved once again that they deserved to be the champion.
The following departments also rejoiced in their triumph, as announced by Ms. Charlenette Mae Lasiste, the chairperson of the competition.
Champion: High School Department
1st runner-up: College of Education
2nd runner-up: College of Nursing and Midwifery
3rd runner-up: College of Criminology
4th runner-up: College of Computer Studies
Victory was the price garnered by the High School Department.
Announcement
Photo Gallery
Videos
---