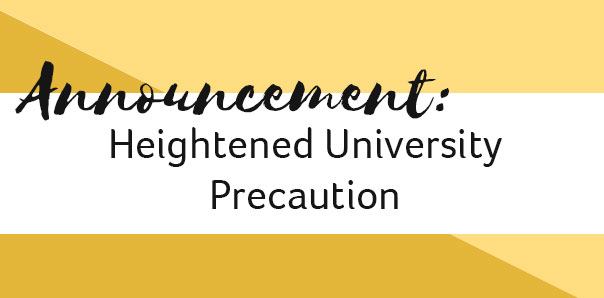 Heightened University Precaution
Misamis University would like to inform all our faculty, staff and students that in light of Proclamation No. 922: Declaring a State of Public Health Emergency Throughout the Philippines and the World Health Organization characterizing the outbreak of Covid-19 as a pandemic, we are instituting the following policies:
1. Domestic and international travel of all members of our MU Community are immediately restricted.
Effective 14 March and up to 29 March 2020, all Graduate School and weekend Law classes are hereby suspended.
All students who are undergoing On The Job Training (OJT) have been recalled back to the university. As a precautionary measure, classes in the College of Nursing, Midwifery and Radiologic Technology are suspended beginning 16 March until 27 March 2020 because of their exposure during hospital duties. They are strongly advised to stay home during the stated period.
2. All mass gatherings such as Commencement Exercises, Graduation Balls, and all similar activities are cancelled.
3. As part of the social distancing policy, Clinical Dentistry laboratory classes are suspended until further notice.
We will continue to update you with more information once it becomes available.
Thank you to the entire MU community and let us pray that the Good Lord will protect us during these uncertain times.
Announcement
Photo Gallery
Videos
---