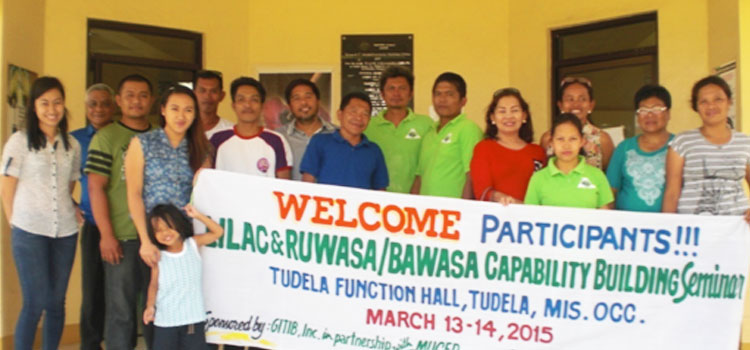 Gitib Incorporated and Misamis University Conducted Capability Building and Enhancement Training and Workshop for LILAC Officers and RUWASA/BAWASA Presidents
The Linusas-Laburak Cooperative (LILAC) was organized as part of the Save Labo River Project (SLRP), a project initiated by Misamis University, DENR and CARE Philippines AWESOME project and was funded by Philippines – Australia Community Assistance Program (PACAP) - Australian Agency for International Development (AusAID). It was organized to manage the water system established to serve the twelve upland barangays in Ozamiz City.
To assess the capability of LILAC as a rural water system, a study entitled "Assessment of the Operations and Services of Linusas-Laburak Cooperative (LILAC) as a Rural Small Water System" was conducted by the College of Business and Management and College of Engineering and Technology of Misamis University. This study was funded by Gitib Incorporated, a non-government organization which is currently assisting the cooperative in managing the water system. The study disclosed that LILAC personnel and their partners in service - the 12 Rural/Barangay Water System Association (RUWASA/BAWASA) presidents, have to undergo a series of seminars and trainings to enhance their technical, management and leadership abilities which are necessary to provide efficient service to their consumers.
Last March 13 and 14, 2015, as one of the recommendations of the study conducted, Gitib Incorporated in partnership with Misamis University Community Extension Program (MUCEP), conducted the Capability Building and Enhancement Training and Workshop for LILAC officers and RUWASA/BAWASA presidents. This was held at Tudela Function Hall, Tudela, Misamis Occidental and was facilitated by Mr. Joey A. Cabrera, a professor of Organizational Behavior and at the same time the Director of the Department of Student Affairs and Services (DSAS), and of the Guidance and Testing Center (GTC) of Misamis University. He was assisted by Ms. Goldah Grace O. Dela Pena, MUCEP Staff; and Ms. Maria Liza Palma and Ms. Norma Eslit of Gitib, Inc.
Lectures, workshops and team building activities were conducted by the resource person. The said activities were directed to accomplish the training objectives: to enhance the leadership skills of LILAC personnel and RUWASA presidents, to establish teamwork among LILAC personnel and RUWASA/BAWASA presidents, and to clearly define the roles, responsibilities and job description of LILAC officer and RUWASA presidents.
One of the highlights, according to Ms. Caridad Murallon, LILAC Board Member, is the teambuilding activity called "Building Bridges". Through this activity, the participants were able to appreciate the essence of unity, cooperation and teamwork in handling tasks.
Ms. Norma Eslit ended the two-day activity by encouraging the participants to apply the lessons they have learned in improving the services that they are offering to the consumers.
Announcement
Photo Gallery
Videos
---