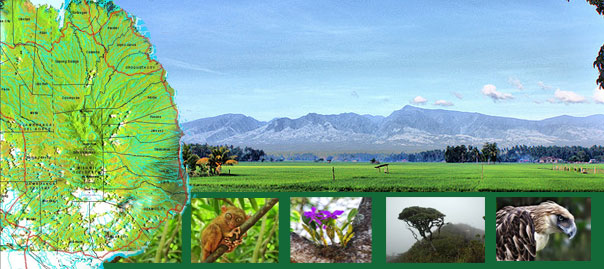 German Government awards grant to Misamis University to implement "Mt. Malindang Protection through Capability Development Project" in partnership and collaboration with the DENR-MMRNP Protected Area Management Board (PAMB), and the Provincial Government
Mt. Malindang Range Natural Park (MMRNP) is one of the Key Biodiversity in the Philippines and declared as 30th ASEAN Heritage Park in 2011. It is a watershed that provides water for industrial, commercial and domestic water supply to the estimated 566, 000 residents of Misamis Occidental, and irrigation systems to an estimated 8, 296has of ricelands in the province.
Despite its richness in natural resources, it is faced with several issues and problems such as threatened biodiversity, lack of baseline and comprehensive data on resources, lack of integrated ecosystem-based protection, conservation and rehabilitation plans; declining number of endemic species; timber poaching and illegal wildlife gathering and trading; unsustainable farming practices and limited means of livelihood; and low environmental awareness. The foregoing reasons prompted Misamis University Community Extension Program Director, Ms. Grace V. Villanueva, to submit a proposal for a project entitled as Mt. Malindang Biodiversity Protection through Capability Building to the Duetsche Gesselschaft fur International Zusammenarbeit (GIZ) – Protected Area Management Enhancement (PAME) Project. The proposal was approved on December 2014 and implemented this year.
The project Mt. Malindang Biodiversity Protection through Capability Building objectives are to sustain Mt. Malindang ecological services to the people of Misamis Occidental and eastern part of Zamboanga Peninsula and threats of Mt. Malindang reduced. It is supported by the Duetsche Gesselschaft fur International Zusammenarbeit (GIZ) – Protected Area Management Enhancement (PAME) project and a collaboration of Misamis University with the Department of Environment and Natural Resources (DENR) –MMRNP Protected Area Management Board (PAMB) through the Protected Area Office (PAO) and the Provincial Local Government Unit and Municipal Local Government Units of Misamis Occidental. The total budget support from the GIZ- PAME amounts to Php 1, 469, 650.00, with the counterparts from partner offices such as DENR-PAO with Php 1, 133, 300.00, Prov. Gov. of Mis. Occ. with Php 1, 037, 500.00, and Misamis University amounting to Php 334, 080.00, on the other hand, MLGUs and Barangays counterparts to the project are in kind, transportation, personnel and others.
Project activities include capability building of 130 Bantay Lasang (BLs) volunteers and 325 Barangay Peacekeeping Action Team (BPATs) from the 65 buffer zones of Mt. Malindang who will be trained on Evidence Based Biodiversity Protection and Environmental Management. Further, BLs and BPATs will conduct resource-based assessment in tier respective barangays, the results will be utilize in the establishment of Barangay E- Environmental Protection Management System for the 65 buffer zone barangays. These BEMPs will be incorporated in the Mt. Malindang Biodiversity Monitoring System. Another component of the project is the conduct of Behavioral Change Communication- Information, Education and Campaign (BCC-IEC) to improve stakeholders' behavior towards the importance of Mt. Malindang.
The innovations* of the project includes the re-training of Bantay Lasang which will enable them acquire competency to conduct assessment and identify economically important, indicator, endangered, endemic, and even invasive species in their very own communities, thereby, giving them actual, tangible data, proof and confirmation of the biodiversity they should protect, and as basis for planning, and precise accountability during monitoring and evaluation. The enlistment of BPATs will widen the protection base/social fence of MMRNP by increasing the number of persons directly concerned and accountable for Mt. Malindang protection.
Another innovative component of the project will be the integration of Barangay E-Environmental Protection Management System to MMRNP Biodiversity Monitoring System. This project component will be with the Misamis University College of Computer Studies (CCS). This measure reinforces and adds valuable locally generated information to the system, with protection plans supported by local ordinances and legislations. The use of technology in the protection, monitoring, and evaluation for biodiversity protection and environmental management through installation of the system whereby community based field operations from 11 municipalities and 3 cities are linked to electronic database: GIS, Geo-tagging will strengthen MMRNP natural resources management, including efficient and effective enforcement.
The project, an initiative on public and private-academe partnership for biodiversity protection and environmental management will combine the scientific and technological expertise of the academe, the real world experiences of the communities, and the resources, mandate, knowledge and authority of agencies and LGUs to eventually address the threats to the very valuable biodiversity of Mt. Malindang.
Announcement
Photo Gallery
Videos
---