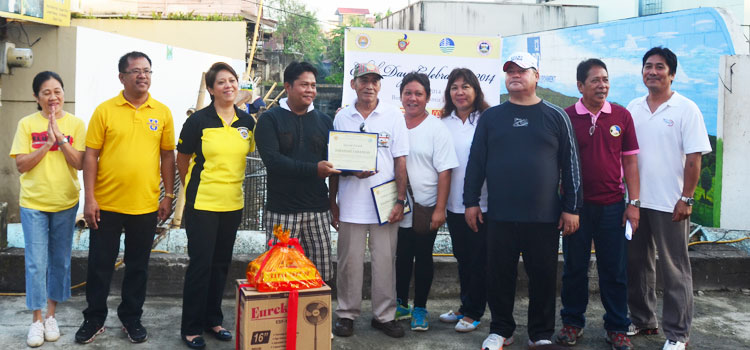 ComMUnity Supports Green Cities
Misamis University joined the worldwide celebration of Earth Day last April 24, 2014 focusing on this year's theme: Green Cities. The comMUnity mobilized a walk for a cause, Carangan Creek Clean-up and Billboard Installations to show her commitment to the different environmental issues faced by the locality.
With the mission of fostering a comMUnity responsive to social and environmental concerns, MU implemented the Ecological Strengthening Through Environmental Rehabilitation and Orientation (ESTERO) Program as one of her many extension programs. It includes the NSTP students' weekly clean-up of Carangan Creek. The program also conducted a series of Environmental Classes for Mothers (ECM) of 283 households of 4 barangays along Carangan Creek. ECM was culminated during the Earth Day celebration; while another series of environmental classes for children of 7-12 years of age was launched. This long-term project educates and encourages the public to partake in rebuilding sustainable community amid the threats of climate change.
Making the event more noteworthy was the awarding of partners and stakeholders who extended support in the ESTERO Program: Geegee Mall, McDonalds, Jollibee, Development Bank of the Philippines, Metrobank, Barangay Carangan, Lam-an, 50th Barangay, San Roque, and the Local Government Unit (LGU) of Ozamiz City headed by Mayor Reynaldo Parojinog. Barangay Carangan, under the leadership of Capt. Alexander Parojinog, was also awarded as the cleanest portion among the 4 barangays along the Carangan Creek.
The Earth Day 2014 celebration was spearheaded by the Misamis University with the University President, Dr. Karen Belina F. De Leon; the Misamis University Community Extension Program (MUCEP) with the Director, Mrs. Grace V. Villanueva; NSTP and the entire MU faculty and staff. Celebrating with MU was a team of partners consisting of the LGU of Ozamiz City, Non-Government Organizations (NGO), Department of Environment and Natural Resources (DENR) Region X, Philippine National Police, GITIB Inc., and the awarded donor partners.
The accomplishments of the ESTERO Program and the Earth Day 2014 celebration strengthened Misamis University's mission to promote environmental care and strong partnership with the community. This is a testament of MU's leadership in providing quality education and in advocating a better quality of life in the communities.
Announcement
Photo Gallery
Videos
---