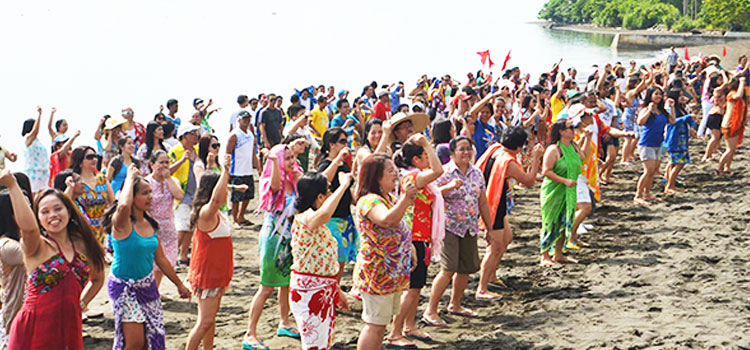 ComMUniteams Compete for Intervirtues 2014
In the spirit of camaraderie and fair play, the Misamis University faculty and staff defended their teams, LOYALTY, INTEGRITY, HONESTY and EXCELLENCE during the Intervirtues 2014. The event ran with month-long competitions in basketball, volleyball, badminton and swimming. In three different highlights- opening ceremony, team building and awarding program- the Intervirtues 2014 hyped up the sportsmanship and comradeship of the entire comMUnity.
Formally opening the Intervirtues 2014 was a ceremony at the MU Covered Court on May 31, 2014 which started with the parade of the four participating teams and the choreographed dancing which followed right after. With weeks of competing and cheering, the employees certainly got a chance to enjoy and bond. More to the series of events was the closing ceremony which lined up team building activities and awarding program at the serene shores of Punta Meriam Resort, Panaon, Misamis Occidental on June 6, 2014. Dressed in Hawaiian inspired attire, the employees vied for the coveted top spots for the boat racing contest, tug of war, sand castle making contest and sinugba contest.
Though representing different teams, the comMUnity unified a cheer of winning spirits. Hailed as Overall Champion was team Honesty composed of the College of Arts and Sciences and High School Department; Second Place was team Excellence composed of the Administrative Offices; Third Place was team Loyalty composed of the Grade School Department, College of Nursing and School of Midwifery, Maritime Education, Dentistry, Medical Technology, and Engineering and Technology; and Fourth Place was team Integrity composed of the College of Computer Studies, Agriculture and Forestry, Education, Graduate School, Business Management and Law. Special awards were also given. Most Valuable Player for Basketball Men was Mr. Ryan J. Madura; for Basketball Women was Ms. Jovimena R. Jasha Florida; for Volleyball Men was Robert S. Castro; and Volleyball Women was Ms. Goldah Grace O. Dela Peña.
With the event's theme- Live the mission. Work with passion. Fulfill the vision- employees engaged with one another to build stronger relationships and contribute more effectively in a team setting. Mr. Eldie J. Bulajao, Director for Human Resource Department, recognized the efforts of the Executive committee, headed by Mr. Sammy Taghoy as the Events Overall Chairman; and expressed the significance of organizing the event. "Rest and recreation make better employees. It is essential to build support networks at work and at home and to collaborate with others; thus, the need to promote work-life balance", Mr. Bulajao expressed. The aspiration of Intervirtues 2014 reminds the comMUnity that in diversity there is strength and there is a fun way of achieving it. With this, Misamis University shall continue to be the leading institution in this part of Mindanao.
Announcement
Photo Gallery
Videos
---