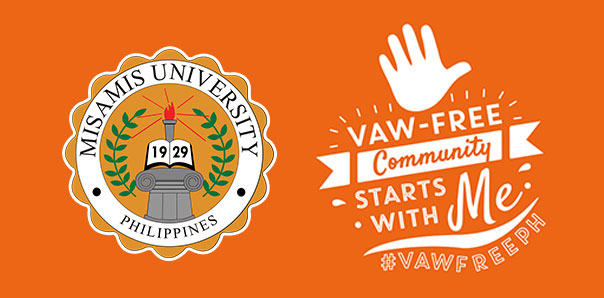 Campaign to End Violence Against Women

In your own way, what do you do to help end Violence Against Women?
Misamis University joins the 18-Day Campaign to End Violence Against Women.
The campaign supports the Philippine government's goal of protecting the human rights of women and girls by upholding its commitment to address all forms of gender-based violence as enshrined in the 1987 Constitution.
Through continued efforts, the University aims to foster an environment that nurtures the minds and intellects of our students, faculty and staffs, and ensures their safety from abuses, especially against women and children.
MU also supports the campaign by gathering public support for the campaign. The end to violence against women starts with us.
If you know any cases of Violence Against Women, or are a victim yourself, please don't hesitate to reach out through these hotlines;
Department of Social Welfare and Development (DSWD)
Tel. No.: (02)931-8101 to 07
DSWD –NCR Ugnayan Pag-asa Crisis Intervention Center
Tel. No.: (02) 734-8639/ 734-8654/ 734-8626 to 27
Philippine National Police (PNP)
Tel. No.: 723-0401 to 20
PNP-Women and Children Protection Center (WCPC)
Tel. No.: 410-3213
NBI-Violence Against Women and Children Desk (VAWCD)
Tel. No.: 523-8231 to 38 / 525-6028


---
Top News