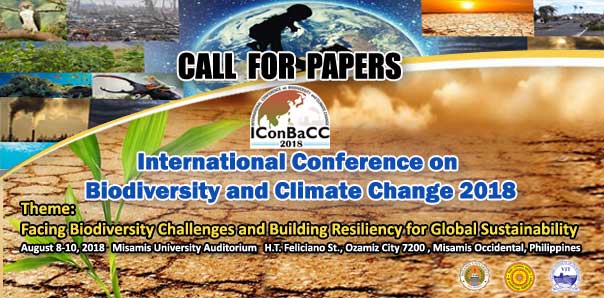 CALL FOR PAPERS: MU Hosts ICONBACC 2018 in Collaboration with International Universities
Misamis University-Philippines in collaboration with University of Sri Jayewardenepura–Gangodawila, Nugegoda, Sri Lanka and Vellore Institute of Technology (VIT) University,Tamil Nadu, India is organizing an International Conference on Biodiversity and Climate Change 2018(IConBaCC 2018) in Misamis University, H. T. Feliciano St., Ozamiz City, Philippines on August 8-10, 2018 with the theme "Facing Biodiversity Challenges and Building Resiliency for Global Sustainability".
The IConBaCC 2018 aims to create an annual international platform for experts, researchers, practitioners, academicians, government officials, professionals, students, civic organizations, and other stakeholders to share their research, best practices, innovations, extension works, policies, contribution, views, experiences, adaptation, and resiliency in today's global challenges with biodiversity and climate change.
In this regard, may we request you to attend to this conference and to present papers and/or posters. For more details, kindly refer to the conference brochure or visit the conference website at iconbacc2018.mu.edu.ph.
*** Extended Abstract Submission August 2, 2018
Announcement
Photo Gallery
Videos
---