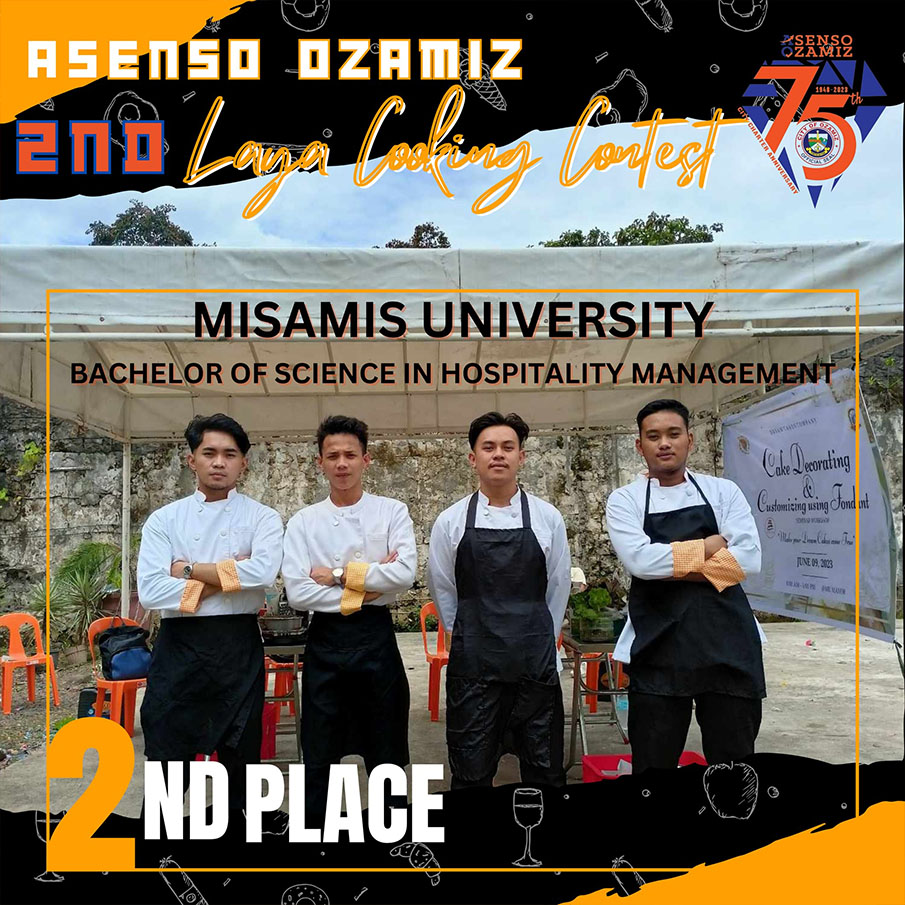 Asenso Ozamiz 2nd LAYA COOKING CONTEST
Congratulations to the Bachelor of Science in Hospitality Management students of Misamis University for their outstanding achievement in the Laya Cooking Contest, held on July 15, 2023, at the historic Cotta Fort in the City of Ozamiz. It brings us immense pride to announce that Misamis University secured an impressive 2nd place in the School Category, showcasing their exceptional culinary skills and dedication to their craft.
The cooking contest was a remarkable event held as part of the 75th City Charter Anniversary celebrations of Ozamiz. Among the many activities lined up, the contest focused on highlighting the versatility of the local delicacy, "laya," a fish abundant in the seas of Ozamiz. The students of Misamis University not only demonstrated their expertise in preparing and presenting delectable dishes but also honored the rich culinary heritage of the region.
The MU students, namely Staley Bryan Jalem, James Kyle Lawas, Dwight Anthony Buzarang, and John Lloyd Oracion, truly shone in this prestigious competition. Their passion for cooking and relentless efforts have brought glory to their university and set a remarkable example for their peers and future aspirants in the field of hospitality management.
As the university garners the 2nd place in the School Category, we are pleased to announce that Misamis University has been awarded a well-deserved cash prize of P10,000. This achievement not only celebrates the success of the students but also reflects the commitment of the institution to excellence in education and experiential learning.
Once again, congratulations to our BSHM students, for their exceptional performance in the Laya Cooking Contest. Your culinary talent and dedication are an inspiration to all, and we look forward to witnessing your continued success in the future. May your passion for culinary arts continue to flourish and create a positive impact in the world of gastronomy. Congratulations once again on this remarkable achievement!
Announcement
Photo Gallery
Videos
---