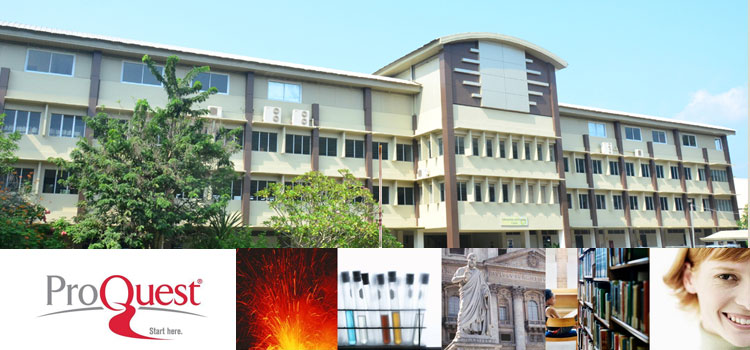 A PROMINENT EVIDENCE OF QUALITY EDUCATION
The commitment to quality education can be effectively delivered in various ways and can be seen through a set of evidences – board exam passers, graduates getting jobs, accredited programs, qualified and competent teaching faculty and staff, strong industry linkage, wide and conducive campus, updated laboratory equipment and facilities and the highly noticeable infrastructures.
Speaking of infrastructures, the three story MU Library complex is one of the most prominent marks of the university's commitment to quality education. With the ground floor fully occupied by admin offices, the whole second and third floors house a large collection of books, journals and other reference materials in various fields of discipline. As one of the biggest libraries in the region, the MU Information Resource Center envisions in becoming an academic center for information resource that promotes excellence in teaching, learning, research and service in the province of Misamis Occidental and Region 10.
In enhancing the capability of the library resources and services in meeting the demands of the curricular, instructional and research programs of the university, the library acquired the most current editions of books which make up a total collection of 33,513 titles and more than 81,000 volumes.
It employs a system that maximizes learning and increases the students' productivity such as the Online Public Access Catalogue (OPAC) which is an innovation from the traditional card catalogue system.
In establishing an information technology infrastructure of all library operations and services like digital and online databases, the MU Library houses the Electronic Resource Section (ERS) for computer-assisted study and researches. It provides facilities for use of internet, E-books, E-journals and other materials in electronic and digital formats. A WIFI internet access within the library premise is also made accessible for mobile connectivity.
As a research-engaged learning institution, the Misamis University Library subscribes to PROQUEST - the largest aggregated full-text library database for libraries. The database includes more than 5,500 titles with 4,000 in full text. PROQUEST provides one-stop access to a wide range of popular academic subjects such as health and medicine, business and finance, history, literature and language, science and technology, social science and the arts.
The library also uses an electronic log system which is an automated monitoring system for library utilization. The record section uses barcode scanner for borrowing and returning of books to generate an accurate data on the utilization of books and other library materials. A discussion room is also provided for the library users who need space for academic discussion and dialogue.
The MU Library System also extends services through mini libraries located in the College of Maritime Education, Law, High School Department and Elementary Department.
Indeed Misamis University proves in many ways that quality education is real and possible and it continues to fulfill its promise.
Announcement
Photo Gallery
Videos
---